CougarLife.com Reviews – Worth joining or not?
CougarLife started in 2006 and helps experienced women find young men to date. For CougarLife, dating has no age limit. Instead, fulfilling connections are on the agenda – as long as both parties are candid about what they want. So, if you're interested and want to learn more, continue reading for our in-depth CougarLife review.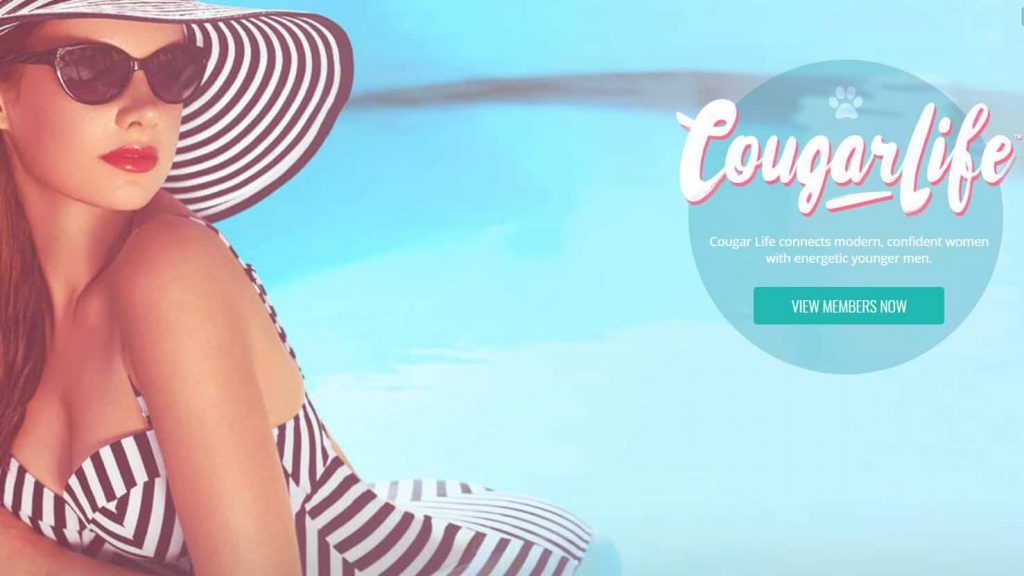 CougarLife.com member structure
There are two types of members – the Cougar and the Cub. Cougars are typically mature and confident women who have life and relationship experience. Cubs are the young men who want to date them. The site is primarily full of women (aka Cougars) in their prime, looking to date younger men.
Members: There are 7 million members worldwide.
Member activity: The site gets about 600,000 unique visitors each month
Gender proportion: Unfortunately, no exact information is available, but women heavily outweigh men.
How does CougarLife work?
CougarLife connects older, more confident women with younger, more energetic men. The website alone shows that it's aimed at women looking for a match.
Sign-up process to CougarLife.com
To sign up to CougarLife.com, create a profile and choose a username. You then state your location and key features, like your hair color and body type. Then add a photo and more information about yourself, although you can skip both.
Choose a pre-selected message or create your own, which you will send to anyone who's flirted with you. Once those steps are done, you can browse members on the site.
Ease of use on CougarLife.com
The website is self-explanatory and straightforward, so you shouldn't encounter any problems. The navigation makes it easy to find what you're looking for, and each profile has handy little boxes to split everything up – adding to a delightful user experience.
CougarLife chat and messages
There are three main ways to communicate: send a flirt, a gift, or a standard message. However, free members can only send flirts, so you must upgrade for anything else. You can see all new cubs and who's been online recently on your profile dashboard, which is an excellent way to break down who.
What is the difference between a regular message and a priority mail? Regular messages are free private chats to other users, and priority mail is a more formal way of chatting to the cougar/cub you like. With priority mail, you can send virtual gifts with your message and even attach a request to view the user's private photos.
Profile Quality
Profile quality is pretty excellent. Most users add good-quality photos, and when you click on a person's profile, there's usually lots of information to check out. But, of course, it pays to add plenty of information, as there's a fair bit of competition to stand out.
CougarLife app for mobile
The app is free to download and looks and feels very similar to the desktop version. You can search for matches and do everything on the main website. Overall, it's an excellent tool for dating on the go. Don't expect any additional features, though (there aren't any!).
Real-life CougarLife.com reviews
First review:
I don't know if I am just one lucky guy, but I met a cougar last week and had a time. Everyone throws s#$? I joined and hooked up at this site without any real trouble s the second cougar site I've been using. The first one was Cougars69 which was even crazier, and I am still a member, but by now, I almost had all of the cougars listed in their member base/at least in my city; LOL, so I wanted to try something…and BAM! Worked again.
Another CougarLife review:
I've been using CougarLife since I divorced because my husband cheated on me with a younger woman. It was great for my self-esteem to date younger men; I have done it for almost three years. CougarLife is a safe site that meets my demands. I even managed to convince my (girl)friends to create profiles. Some of them are still active.
My girls and I have been using other sites like Cougars69, but it is true what everyone says: This site is just a place for people who want to have no strings attached to the fun. Nothing wrong with that, and I have been using it for several one-night stands, but if you wish to have some well-behaved young gentleman with who you can imagine having a relationship, CougarLife.com is an excellent site to use.
From sitejabber.com
Interested in more CougarLife.com reviews?  Check out this ongoing Reddit thread about experiences on CougarLife.com
Key features of CougarLife.com
Find a Date. You can find a little box on your profile that tells you if any cubs are available for a date night. You can also tick the box to say you've known for a date.
Gifts. What are CougarLife.com gifts? You can send a gift if you want your message to stand out. These cost credits (which you get when subscribing to a premium membership) help you have visibility.
Private Gallery. Although most of your photos are for everyone to see, you can add images to a personal gallery to grant your favorite members access.
The Blog. Here you'll find loads of decent online dating tips and hints. It's a great read with loads of information.
Is CougarLife.com safe?
There's loads of good safety information on the website, which details how to keep yourself safe. You can also block and report suspicious members for them to investigate. If you have questions about CougarLife, contact the customer service team at [email protected].
How much does membership cost on CougarLife?
CougarLife prices for Premium membership:
All CougarLife memberships renew automatically. To cancel, you'll need to phone their customer service number. With sign-up, you get free credits too. You can spend these on special features, like gifts.
Discounts, offers, and promo codes
Unfortunately, no discount codes are available, but it's always worth a Google search before committing to a premium membership.
Free trials at CougarLife.com
Free trials don't exist, but it's free to sign up, browse and send flirts. You can do this for however long, so there's no pressure to sign up for a free profile.
Pros and Cons from CougarLife.com Reviews
✓

Pros from CougarLife.com Reviews
Great website – it works well and looks very premium. It's desirable to the women it's trying to target.
You can keep specific photos private, so only your chosen members can see them.
Instant messaging is an excellent feature for real-time chat.
X

Cons from CougarLife.com Reviews
Free membership is minimal.
You can join the site anonymously without any background checks, which means there are a lot of fake profiles on the site.
It's not always easy to find profiles in your area.
Our final CougarLife Review & Rating
Cougarlife
Product Name: Cougarlife
Product Description: Cougar Life is a place for men looking to date older women-and for women interested in dating younger men.
Brand: Cougarlife
Offer price: 12.00
Currency: USD
Availability: OnlineOnly
Offer URL: https://mydatingadviser.com/go/cougar-life/
Valid until: September 30, 2023
Popularity

Features

Value

Safety

Ease of Use
Summary
If cougar dating is something you're interested in, then CougarLife is a great place to start. The website is super easy and intuitive to use – and it's pretty fun! The site is minimal for free members, but you'll unlock a few great features once you've signed up. Finding a Date is one of them. If you're brave and want to get out there, you can check the box to let other members know you're available for dates that take traditional online dating offline.
There are plenty of members to browse through, too. However, as it's not one of the most popular dating websites, finding people directly in your area might be tricky. It might be the perfect website if you can travel or be open-minded. 4.2/5
Guides for younger men looking to date a cougar:
Join CougarLife.com Today