If you're in a hurry and want to know our top choice for the best interracial dating site, then we recommend OkCupid.com.
Relationships come in all shapes and sizes, but as long as you have an open heart and open mind, love will come your way.
Nearly 1 in 10 people in England and Wales are in inter-ethnic relationships. With this type of relationship on the rise, it's so important that singles are catered for.
If you're looking for an interracial relationship, we've got some of the best dating sites and apps to discover.
This guide will provide you with reviews of the best interracial dating sites:
What are the best interracial dating sites?
About OkCupid.com: OkCupid is an internationally operating dating, friendship and social networking website. It features multiple-choice questions in order to match members.
Why OkCupid is a great app for interracial dating: OkCupid hs recently focused on diversity, inclusivity and modern dating trends.
This makes it the perfect place to for interracial couples to connect. It also pushes for lasting connections wiht a mix of non-traditional questions and math.
About Match.com: With over 1.6 million successful couples, Match.com is one of the leading dating sites for cross-culture couples. It boasts a wide dating pool for you to cast your net.
It offerse singles with different dating backgrounds to meet, communicate and find love. Their singles nights are some of the best in the industry.
They provide a safe and comfortable environment to take the plunge and meet face to face.
Why Match.com is a great app for interracial dating: There are so many singles to communicate with on Match.com. This means there's greater potential to find someone you can connect with.
Profiles are also detailed, making it so much easier to get to know a person before you dive right in with a message.
About BlackPeopleMeet: BlackPeopleMeet is aimed at black singles and the people who'd like to date them.
African Americans make up most of the membership base (95%), but everyone is welcome to be part of the community.
Why BlackPeopleMeet is great for interracial dating: BlackPeopleMeet's ethos is "the grass is not greener on the other side. The grass is green where it's watered.", meaning they fully encourage its members to look for love outside their race.
The community they've created is one of acceptance, understanding and friendship, so it's the perfect site to join if this is what's important to you.
About AfroIntroductions: AfroIntroductions is the largest African dating site, with over 2.5 million members. However, it's not just aimed at black singles; it's also aimed at singles who respect them.
It's really easy to get started with too. You simply sign up, describe your perfect partner, then start chatting to the people you like the look of.
Why AfroIntroductions is a great interracial dating site: AfroIntroductions has created a wonderful community where everyone can communicate in peace and find romance.
There's also a dating app that you can use, meaning you can date where you can date anywhere in the world.
About Elite Singles: According to Elite Singles, it can be tough to find supportive platforms that encourage long-term commitment.
To tackle this, they cater for men and women who desire more from love, allowing you to find meaningful interracial connections while steering clear of the seedier mixed-raced platforms.
Why Elite Singles is a great interracial dating site: Elite Singles creates deeply compatible interracial connections by taking users' personalities, lifestyle needs and relationship goals into account.
This enables them to suggest matches they think will last. They also promise no bad dates and no pointless swiping, so it's the dating site for long-lasting love.
About eHarmony: eHarmony are committed to finding their members interracial love that lasts  — whatever your race or colour.
As their membership base is so ethnically diverse, there's a good chance you'll meet your match — or at least make friends with other singles you meet.
Why eHarmony is a great interracial dating site: Using their patented Compatiblity Matching System®, eHamony narrows the field of interracial singles to match you with comptible singles.
This gives you a better chance to find long-lasting love. They also have loads of tips on how to find interracial love on their website, which you can read at your own leisure.
How do interracial dating sites work?
Interracial dating sites aren't that different from any other dating site. However, what's unique about them is that they make a great platform for meeting black people, Asians, or anyone else from a different culture.
And they don't just cater for the culture they're targeting, but the people who want to date them too. This makes an interracial dating site completely inclusive and diverse.
When it comes to finding mixed race singles, you can use the search filters to discover your perfect match.
You can search for someone who meets your ideal preferences, including height, weight, location, race. Afterwards, send a message to the people you like the look of to see if you have a connection.
What are the benefits of an interracial relationship?
It's nice to be different
Who cares what society thinks? Interracial couples are still a bit of a rarity —only 7% of relationships in England and Wales and mixed race.
So why not lead the pack by showing others than race and culture doesn't matter when it comes to dating? Love is the driving force here.
As long as you respect and appreciate one another, you already have the solid foundations to build a great relationship with. This will also help you question the 'norm' when it comes to dating.
Learn more about a different culture
Sometimes taking yourself away from the bubble of your own culture can be liberating. Not only can you learn a new language.
You can also travel to each other's home countries and try food you've never eaten before. And the best thing is you can do it together as a team.
These new experiences can also strengthen your connection to your significant other whilst allowing you to see more of the world.
Learn more about your own culture
As well as learning about your partner's culture, you can discover more about your own by sharing your experiences and background with them.
While you're getting to know each other, you might show them your favourite films or the songs you listened to while growing up.
There's bound to be some signature dishes your parents and grandparents made you when you were young, too.
Revisiting these important parts in your life can help you build a stronger connection to your own culture, while learning about your partner's.
Become stronger in what you believe in
Interracial dating can help open your eyes to a whole new world. But it can also help you become clear on what you believe in too, by seeing how other people live.
By discovering new cultures and backgrounds, there's a massive opportunity for you to gain a sense of empathy.
This can help you sympathise and develop a better understanding of the prejudice and intolerances faced by your partner and their race.
It can also help you get rid of old preconceptions you may have had. This can give you a new outlook on life, strengthening your commitment to new ways of thinking.
Misconceptions of interracial relationships
It isn't just black and white – it's other races
Interracial relationships tend to conjure up the image of a black person dating white. But this isn't the case.
Mixed race relationships are in fact wonderfully diverse, covering all races from every corner of the earth.
Whether the pairing is an Asian person dating a Mexican, or an Indian man dating a Thai woman, society is becoming inclusive of all racial matches.
Interracial couples don't need to be gender-specific either. Gay or lesbian couples can enjoy racial ambiguity too.
In fact, loads of interracial dating sites cater for the LGBT community, opening up a whole new world of potential.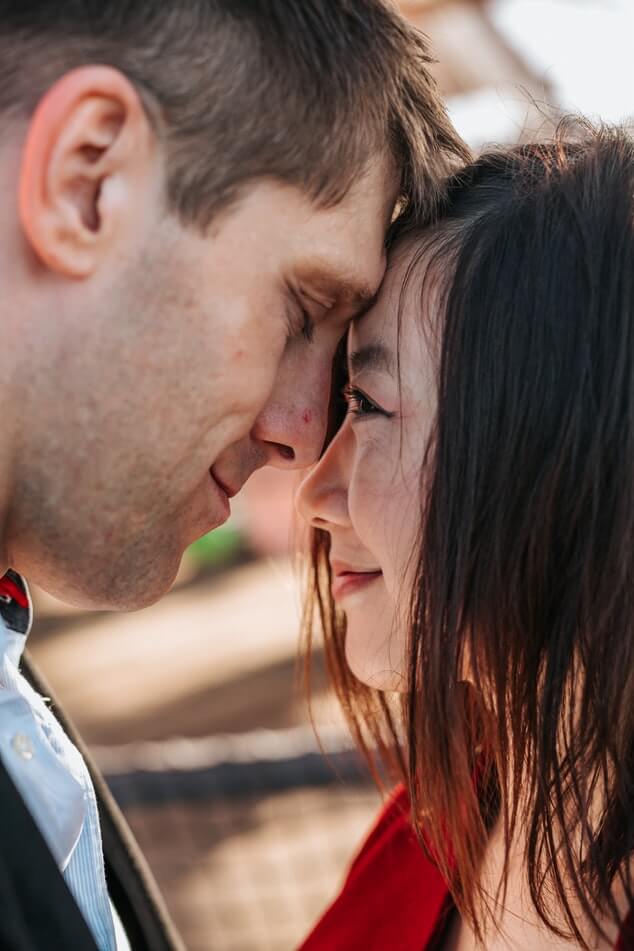 The blur between admiring and fetishing
When it comes to seeking a relationship with someone of a different race to you, it's all too easy to see them as an object rather than a person. A fantasy is normal, but where do you draw the line?
The truth is, a black person isn't defined by their colour. Nor is an Asian quiet and submissive (even though this is what the stereotypes might have you believe).
Make sure that if you're seeking an interracial relationship, you do it for the right reasons. Be respectful and get to know the person behind the profile first.
You might be surprised by what you find — and you might come to realise that interracial dating isn't your first priority.
It's not just about sex
You've no doubt heard the saying before: "Once you go black, you'll never go back". Whether this is true or not, it shouldn't be your sole driver for seeking an interracial relationship. It can also be seen as fuelling the stereotype.
By putting sex first, you're not giving yourself the chance to find out what makes the individual tick. This means you could miss out on building a genuine connection with someone special.
Stereotypes aren't always true, either. And it goes without saying that everyone's personality is unique — good or bad — and that means so much more than sex alone.
Love is blind despite the world's attempt to give it eyes.
It doesn't solve racism
Despite your best intentions, racism won't go away just because you've started an interracial relationship. Don't be disheartened though.
Dating someone from a different culture and background can widen your mind and open your heart (as well as those around you). It can also make you more empathetic to your partner's prejudices.
But there is still a long way to go when it comes to stamping out racism. Educating those around you about your experiences is a great way to help change perception now and into the future.
It's not a big deal
You know what, it's the 21st century; who cares who you're dating? Relationships are about love and who you connect with, not about the colour of someone's skin.
You also can't help who you fall for, so don't be put off by what other people are saying. As long as you respect one another and treat each other as an individual, you can't go wrong.
Others around you may not approve, but do their opinions really matter? Try changing the perceptions of those that matter to you if you can. Otherwise, it's worth thinking about whether it's time to move on.
What are the challenges that interracial couples deal with?
Racist people and comments
As much as we'd love it to be, racism isn't extinct. You may find yourself on the receiving end of some unwanted and unwarranted comments.
These comments might be truly racist or they may be well-meaning jokes that are a little inappropriate. Either way, hearing them isn't exactly pleasant.
If you experience this, stick strong with your partner and put on a united front. Honesty is the best policy too. Let your peers, family and friends know how you feel to put a stop to the negativity before it goes too far.
Love knows no race. Interracial couples are a symbol of beauty.
Disagreements on cultural differences
Disagreements are inevitable. However, a common problem interracial couples can face is disagreements about each other's culture.
Sometimes beliefs might clash, or cultural habits developed from childhood may feel alien and annoying. Different religious beliefs may also come into play.
Whatever the issue, the important thing is to talk through them to try a move forwards. Ultimately, your culture will be a big part of each other's lives.
This means it's important to be as tolerant and understanding as you can. It may take time, but keep persevering.
Uncomfortable to disclose the relationship
Depending on your family's beliefs and culture, you may not feel comfortable in coming clean about your relationship.
This can cause friction within your relationship. You also may feel like you have to choose between your partner and your family.
This situation is never easy, but trusting your partner and building a strong relationship is a great way to move forward.
If you can, try to have an open discussion with all parties too. Lay everything out on the table and try to work past the prejudices so you can be open about your relationship moving forwards.
When you are dealing with humanity as a family there's no question of integration or intermarriage. It's just one human being marrying another human being or one human being living around and with another human being.
What factors to look for when deciding on an interracial dating site?
Membership base
The membership base is one of the most important factors to consider when choosing your interracial dating site.
There are tonnes of dating sites that cater for different race. This includes black and Asian, to Latina and Chinese. Deciding on which culture you're interested in will help you make your choice.
It's a great idea to think about the features that are on offer too. Advanced search filters are a good one, as these allow you to select your specific preferences to find your perfect match.
Price
While there are a few free dating sites available, it's rare to find a free interracial site. This is because they're considered to be a niche market. Paying to be a member can also become expensive, so it's worth thinking about whether online dating is the route that will work best for you.
If you are serious about finding an interracial match, it's a good idea to invest in a site you like the sound of best.
Most sites offer a choice of memberships anyway, meaning you can sign up for a few months to try it out first instead of committing.
Popularity
The popularity of an interracial dating site will ultimately mean there's a larger dating pool for you to discover. More members also means more chance of success.
A popular dating site can often signify that it works well, has good features and offers good value for money.
If you can, read reviews from real-life users to try and get a feel for the pros and cons beforehand. This is a great way to get an unbiased view.
What are the pros and cons of interaccial dating sites?
✓

Pros of Interracial Dating Sites
Interracial dating sites tend to be updated and user friendly.
They contain some of the best features from on dating sites.
Great advanced search features available.
Plenty of members for increased dating success.
Meet people of different cultures and backgrounds from the comfort of your own home without having to travel.
You often find language translation features so you can chat to anyone, regardless of their language.
X

Cons of Interracial Dating Sites
Interracial dating sites don't tend to be cheap. You often have to subscribe to unlock the premium features too.
You might have to travel to meet your match, and this could involve time, effort and money.
There are sometimes too many members, which makes finding someone special difficult.
Our recommendation
There are lots of options when it comes to interracial dating, but we recommend OkCupid. Rated 4.4/5 by us, it's a completely inclusive dating site for all races — whether you're gay or straight.
In fact, the membership base includes 12 different genders and 20 sexual orientations. And it's not just a dating website, but it's a place where you can get dating tips, hear stories and share your own.
There are also loads of fun special features for you to sink your teeth into. This includes Match Questions, Personality Traits and DoubleTake.
Finally, one of the best things about OkCupid is that anytime can send messages for free — even basic users.
Other things we like:
The website is clean, fun and so simple to use.
It features an app for iPhone and Android.
You can sign up using your social media profile.
You can message people for free.
Try one of these interracial dating UK sites & apps today!
Now that you know more about the best interracial dating sites, it's time to get out there and find the right person for you. Be sure to check out our dating site reviews to find out more.
I'm a black girl who dates white guys. It doesn't mean I don't like my own race. It means I am a black girl who doesn't let race get in the way of my happiness.