As the world's largest dating site, you've probably already heard of Plenty Of Fish. It's got millions of users worldwide. Moreover, online dating has continued to grow into something pretty unrivaled.
There are plenty of great success stories from couples meeting online and later going on to marry, so it's a dating site that works.
As the name suggests, there are plenty of fish in the sea, and many people use this dating site, too. Find out what we make of it with our full Plenty of Fish review below.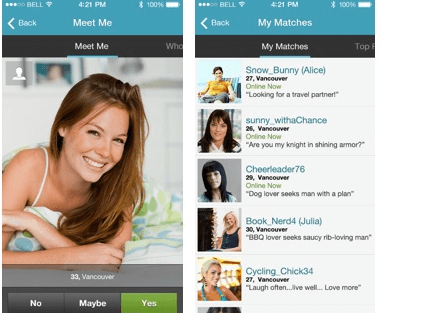 Visit Site
Is Plenty of Fish Worth it? Our recommendation upfront
Is Plenty of Fish a good dating site? Plenty of Fish is incredibly popular for a reason. It's free, it's simple to use, and it works.
You have to sift through plenty of profiles to find the ones that catch your eye, but you can let the match feature make it easier.
Therefore, if you're prepared to make the site a success, you'll likely find like-minded individuals with whom you connect.
With so many users on the site, it does require time, effort, and patience that many other paying dating sites take care of you.
In conclusion, we recommend finding out who you're speaking to (avoiding scams or sales profiles) and checking profile info to ensure you match the right people. 4.2/5.
Overall Plenty of Fish Rating
Popularity

Features

Value

Safety

Ease of Use
Pros and Cons
✓

Pros of Plenty of Fish
Members never have to pay to send messages; the site is accessible to everyone.
Users are constantly active, meaning you get profile views and messages immediately.
It's free! So rare to find with online dating, so this is a big bonus.
X

Cons of Plenty of Fish
Many people are looking for different things, including more casual relationships. However, finding something serious can be challenging without first searching through and chatting with people.
Also, you will find a fair few profiles that sell services. Please make sure you check their information before you reply to any messages.
A bit ad-heavy and the website's not very sleek or pretty.
Plenty of Fish member structure
There are people from all walks of life using Plenty Of Fish. It attracts a vast range of people as the largest dating site and is free. However, the most prominent age demographic is the 25-34 group.
Members: There are around 150 million registered members worldwide.
Member Activity: According to the website, 1 billion messages are sent monthly! 4 million active users and 65,000 new people sign up daily.
Gender proportion: 52% Male and 48% Female
Age range and gender ratio
| | |
| --- | --- |
| Age Range | Percentage |
| 18-24 | 22% women | 29% men |
| 25-34 | 31% women | 34% men |
| 35-44 | 29% women | 24% men |
| 45-54 | 10% women | 12% men |
| 55+ | 3% women | 1% men |
How does POF work?
Once you've signed up for a profile, you can browse through profiles and send messages to singles you like.
They'll show you several matches daily based on your chemistry questionnaire answers.
You can also refine your search based on your preferred age and location to help you narrow your search results down.
Plenty of Fish signup process
Plenty of Fish signup takes three simple steps:
First, create your profile, choosing a unique username and password.
Fill out some questions on who you are (like eye and hair color) and what you're after (something serious or casual?). You can then add detailed information about your likes and dislikes and what makes you tick.
Fill out the chemistry questionnaire – this is how you'll get your matches.
Signup takes around 10-20 minutes to complete, depending on how in-depth you make your answers.
Ease of use
Using Plenty Of Fish couldn't be simpler. The navigation is clean, simple, and incredibly descriptive. In addition, the site's accessible to get the hang of once you've had a quick scroll through all the features.
Making contact, messages, and notifications
Anyone can send messages on Plenty Of Fish – even free members! It works as a text messaging feature rather than email.
You can also leave a voice recording using your phone's microphone once you've gotten to know someone better.
Profile Quality
Profile quality is pretty good. Most users take the time to add a profile picture and a description. Then, you can write a headline – a short sentence designed to catch the eye of other singles browsing the site.
It is important because your profile could get missed in the vast sea of profiles already on there without it.
POF App Download for iPhone & Android
The POF app is available on iOS and Android devices in 11 languages and 20 countries worldwide. In addition, 90% of the site's traffic is mobile, making the app handy for on-the-go dating.
The app is straightforward and features the same functionality as the website, and it's worth a download. In addition, messaging on the app is 100 free and has many features to help you start dating.
App features include (all free):
Advanced matching algorithm
View matches, sort by last online, newest users, and more
Send and receive unlimited messages
Real-life reviews
I was on POF last year, hid my profile, then came back on the site in hopes to meet someone genuine, honest, SINGLE, educated, established, and looking for someone to be in an 'exclusive relationship' with.

After 2 weeks of being totally disgusted with some of the emails and lack of education with most of the men….my intuition told me to stay on it a couple more days before hiding my profile once again.

My intuition proved right!!! I received a message from a gentleman, who lived in close proximity, and we exchanged numbers. I spoke to him and was relieved he was able to articulate well and had a sense of humor.

After a couple of conversations, we agreed to meet at a restaurant and hit it off immediately. He was tall, dark, and handsome! Not to mention the chemistry and compatibility!

Needless to say, it's been around 5 months now and he has treated me like the QUEEN I am! He's considerate, affectionate, and a great lover! He's the last thing on my mind when I go to sleep at night and the first person in my thoughts when I wake up in the morning.

We have met each other's family members and have been out of town on trips…he is very liberal with his cash and spears no expense in making sure I'm happy and having a good time. We are also in the process of planning a trip out of the country in the coming months.

I am writing all of this to simply say, there are good people out there if you give it a chance. But also, be conscious enough to use your common sense when you think someone is 'scamming' you or just trying to 'knock the boots'. You're old enough to know not to waste your time if something just doesn't smell right!

I have found my Prince Charming…or shall I say, he has found me! I'm the happiest now that I have been in a relationship for a long time. I know he will definitely be in my future for a very long time and I'm looking forward to our road traveled together.

So, ladies and gentlemen, keep hope alive because HE or SHE is out there somewhere! Thanks, POF!!!!!
From Trustpilot
Key features of POF
Anyone can send messages for free. With a free membership, you can get full access to the site, including searching, testimonials, favorites, and communication with other messages.
Anyone can view profile pictures.
Relationship Chemistry Predictor. POF offers a highly detailed personality assessment with test results to help you better understand how you function within a relationship.
When you sign up, you answer questions in the Chemistry section, and these questions assess your personality via five tests – Chemistry, Needs, Psychological, Keeper, and Sex. They then use data to help find you a match.
Testimonials. If you are on someone's favorites list, you can leave a testimonial for them. An excellent way for them to have some 'customer feedback.' You can even remove testimonials you have written or ones written about you.
Particular profile pages. Plenty of Fish accommodates many singles with varying dating goals thanks to ultra-specific profile features.
Special features on POF
UltraMatch. Get matched with other singles depending on who Plenty Of Fish thinks you'll be most compatible with.
Top Prospects. Everyone you've had contact with for the last 30 days will be ranked based on your compatibility, ensuring you don't miss out on anyone you might have already written off.
Nearby. Mobile location services to find you singles that are nearby.
Meet Me. A feature where you can tick 'yes' if you'd like to meet the person or 'no' if you don't.
Is Plenty of Fish safe?
Safety and security are a top priority for Plenty Of Fish. They have a couple of helpful help pages dedicated to keeping your account information safe, and you can report any profile you think might be suspicious, which they'll investigate.
They are also one of the oldest dating sites (they've been around since 2003) and are well known. For this reason, we think it is a safe and reputable app to use. In addition, the features offered help to keep you safe and enjoy your dating experience.
How much does Plenty of Fish cost?
How much does Plenty of Fish cost per month? What is the price for membership? Memberships are free, and you can search without registering. If you would like to enjoy some of the more premium features, you can upgrade to unlock additional attributes for the following prices:
Plenty of Fish membership cost:
The upgrades automatically renew once they reach their expiry date. Double-check that you have auto-renewed off in your settings if you don't want this to happen.
Plenty of Fish free trial, promo, and discounts
As membership is already free, you'll unlikely find discount codes or promos. However, it's always worth having a quick Google search before paying for the upgrades. You never know.
Is Plenty of Fish free? Can you search without registering?
Yes, you can search without registering on Plenty of Fish. Members never have to pay to send messages. The site is accessible to everyone. Users are constantly active; you can get profile views and notifications immediately.
You can see who's online and filter your searches by when people were last online. You can find people more likely to send you a message quickly.
It's free! Rare to find with online dating, so this is a big bonus.
Join Plenty of Fish today
FAQ
Is there an age restriction or limit on Plenty of Fish?
Yes, you can only contact people +/- under 14 years old. So, for example, a 50-year-old man cannot reach an 18-year-old woman. Most messages usually sent outside of these ranges are around hookups.
How old do you have to be to use POF?
You have to be 18 years of age to use Plenty of Fish and the service.
How can I verify my account?
POF uses SMS verification to verify accounts and keep spammers and scammers away from the platform.
Is messaging free on Plenty of Fish?
Yes, messaging other members is free and straightforward on POF. The messages function works like text messaging, where you can send messages back and forth to matches. In addition, messages are unlimited, even on a free membership.
Is there a messaging limit on POF?
There is no limit on how many messages you send daily or how many people you message. So you can enjoy chatting as much as you like!
Who can send private images?
Only females can send private images on POF. Unfortunately, POF removed this feature for men because of nudity.
How can I send a message to someone I like?
To send a message to another member, scroll to the bottom of their profile and click 'Message Username Now.' In addition, you can send an inbox gift and a rose with the longer messaging format.
How can I send a Quick Message?
To send a Quick Message to another member, write your message in the message box on their profile and click 'Send Quick Msg.'
How can I see if another user has read my messages?
It will help if you become an Upgraded Member to get read receipts on messages.
How can I send a gift to someone on POF?
If you are an Upgraded User, you can send three daily gifts. Unfortunately, the option to send someone a gift is only available on your web browser. If you are using a mobile, you can go to the 'Menu' and scroll to the bottom where it says 'Switch to Desktop Site,' From here, you can also send messages with a gift.
Click 'Send a Gift Now' at the bottom of a user's profile to send the gift. Your gift will appear on their profile for three weeks. You can also write them a personalized message to accompany the gift.
How do I create my Plenty of Fish profile?
To create your POF profile, submit your details to the registration page.
How can I edit my profile? Change my gender, birthday, email address, country, or password.
You can update this information at the bottom of your profile page. Click 'update registration' or 'update password' to save any changes.
You can only update your birth date for the first two weeks after registration. After this time, you cannot revise it.
How can I see who has viewed my profile?
Select 'Viewed Me' on the top menu. Here you will see users listed by when they were last online. If you want to know the date and time someone viewed your profile, you need an Upgraded Membership.
How can I report a user?
If someone interferes with your experience, you can report them to the moderators to investigate. Once you notify them, the team will carefully examine the account for suspicious activity. All reports on POF are strictly confidential.
You may want to report a user on POF because of these reasons:
– Abusive
– Nonsense profile
– Inappropriate photos
– Copyright images
– Underage user
– Scammer
– Promoting or selling
How can I block another user from contacting me?
To block another user, you must have their message in your inbox. Open the conversation you want to stop and click on the 'Block User' link in the thread next to the reply box. If you are in the app, you can see this in the drop-down menu when looking at the message.
You cannot block a user using a mobile web browser. If you are using a mobile and unable to use the app, click the 'Menu' and then select 'Switch to Desktop site' and follow the instructions mentioned above.
After blocking another user, they can still search for your profile but cannot contact you.
If you wish to unblock a user, open your conversation with them and click 'Users I Blocked' on the right side of the page. Then select 'Unblock User' next to the username of the person you wish to unblock.
What does it mean if my account is deleted?
POF has zero tolerance for rude activity, fake pictures, married or use of sexual language in the first message, nude photos, or breaking the terms of service. If you do, then POF will delete your account. In addition, if you receive many blocks from other members, your account could be suspended. If you POF delete your account, you cannot sign up again.
Why should I become an Upgraded member? What benefits does this include?
Paying for an upgrade offers the following additional features:
Show up first on Meet Me. What does Meet Me on POF mean? You'll find out whether users find you attractive or not straight away.
View extended profiles.
See if your emails are read or deleted.
Get rid of the ads.
See who's viewed your profile right down to the date and time.
Increase your profile views and the emails you receive.
Send up to 3 gifts a day.
Upload 16 images.
What can I do with a token?
Tokens allow you to do the following:
Send a Super Yes. This lets singles know you like them, increasing your chances of matching up.
Highlight yourself. You'll be labeled as 'Today's Catch' to stand out more from other singles.
Send a priority message. Your message will go straight to the top of the user's inbox.
Alternatives to Plenty of Fish
Chemistry Review
---
eHarmony Review
---
Oasis Dating Review
---